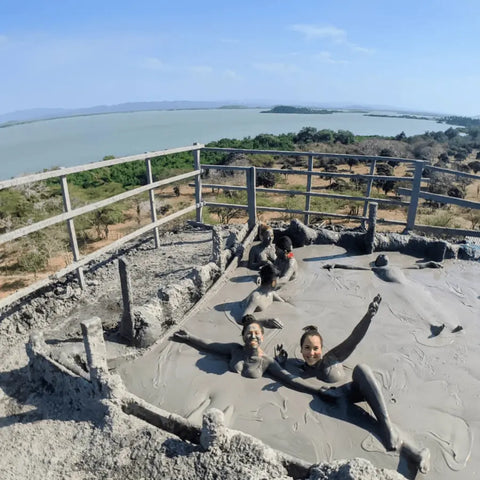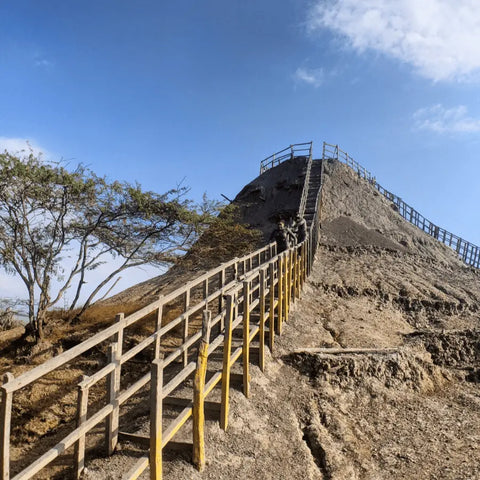 Totumo Mud Volcano
On this ecotour you will have the opportunity to visit and plunge into the Totumo mud volcano, a place of interest in Cartagena for its natural mud formation that gives you the added benefit of improving and restoring your skin while you relax in this natural Spa. The volcano is 20 meters high and more than 2,000 meters deep, but because of the mud's density and its components it is impossible to sink.
Once you are in the volcano, the most difficult thing will be to choose what position you want to be in, since by inertia your body tends to float face up. Acclimating to being in the warm and dense mud is both an extremely fun experience and a strange feeling at the same time.
Don't forget to rub the mud all over your body and face, and massage it into your skin a circular movement to improve the effectiveness. When you take the mud off you will feel that your skin is noticeably softer and smoother, and after floating for so many minutes, you will be in a state of extreme relaxation. 
The different tour options are:
- Plan 1: Tour to the volcano roundtrip transportation
- Plan 2: Tour to the Volcano and lunch in la boquilla
Choose the option that best suits your trip. You will find the prices of each tour option above.
Includes:
Roundtrip transportation from your accommodation if you are staying in the North zone, old city, Getsemani, Bocagrande, Castillogrande or Laguito neighborhood.
If you are staying Manga or other places outside the pick up area, we will set up the closest meeting point to your accommodation.
Bilingual guide
Entrance fee to the mud volcano
Lockers with keys to store your personal belongings
Not included:
Massages, photos and cleaning assistance. Each of these additional services costs US$1.50 and must be paid at the volcano. optional. 
Schedules:
Plan 1 Every day from 08:00am to 2:00pm
Plan 2 Every day from 08:00am to 03:00pm
Additional Information:
You cannot carry anything besides your bathing suit with you when you start climbing the stairs to get to the top of the volcano. Anything that you take inside the volcano will sink. If you want to take photos with your cell phone, there are people that offer this service. They will take as many photos as you wish with your cellphone or camera for US$1.50 or COP 4,000
Inside the volcano there are people that give massages for the same price of US$1.50 or COP 4,000. This service is optional.
Outside the volcano there are ladies that wash you and take all the mud off your body. Sometimes it can be slightly awkward since they try to remove the mud well and grab your bathing suit, but this is a common experience and you shouldn't feel uncomfortable. This is the only required service, and the price is the same as the previously mentioned services.
Pick time are estimated schedules. Once you make the booking we will send you more all details to your email.

Free cancellation up to 24 hours before activity starts