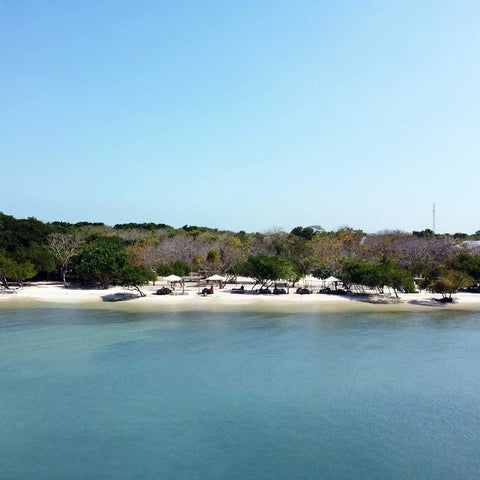 Sabai Eco Beach - Baru
A little more than an hour from Cartagena, in a place far from the commercial area, you will find the Barú Beach Eco-Beach Resort, a space filled with peace and tranquility. Enjoy an incredible day at Barú Island's only hotel, which has a more than 200 meter private beach, free from vendors and crowds.
The best part of this experience is that it begins before you arrive at the hotel. The first stop is at the beautiful Ciénaga de Cholón, a cove surrounded by warm turquoise waters, under which is the largest barrier reef in Cartagena. Next, you will enjoy a panoramic tour through the mangrove tunnel.
The last stop is at the Barú Beach Eco-Beach Resort in Playa Blanca, a small, independent hotel that has 8 rooms, a restaurant and a private stretch of beach, which is ideal for those looking to escape the hustle and bustle of the crowds.
At the hotel, travelers can enjoy a beautiful sunny afternoon in the comfortable beach hammocks, or enjoy the shade provided by the trees and umbrellas. Those looking for adventure can make use of the free kayaks or play sports and activities such as volleyball or board games.
Every moment is a delight in this enchanting paradise. A welcoming and exclusive destination that combines nature with serenity and offers personalized service by top professionals. If you are looking for a special, exclusive and unique place, Barú Beach Eco-Beach Resort is the perfect destination for you
Includes:
Round-trip boat transportation: 60-minute journey by boat under full shade
Boarding and departure from the private pier in Bocagrande marina.
Boarding fee.
Onboard water (1 unit per person)
Two professional pilots + bilingual hostess/guide.
Tour of Bocachica Fort and Cholón Cienaga.
Disembarkation in private 50-meter long dock.
Welcome: Regional fruit popsicle.
Beachside cots + towel.
200-meter beach extension without vendors or crowds.
$80,000 COP consumable voucher per person on the Restaurant and Bar menu.
Beachfront dining under shade with ocean view.
Activities: Kayaks, volleyball, board games.
Water and coffee all day.
Beachside WiFi.
Not Included
Additional consumption expenses
Transportation until the meeting point
Schedule:
Departure time: 8:00 am - Return time to Cartagena: 3:00 pm
Meeting point: Todomar Bocagrande Marina at 7:30am.
Important Information:
Children under 12 years old pay a differential rate
Child price is $360,000 for ages 3 to 12 years old.
This island has a daily limited capacity.
Bringing food and beverages to the boat and hotel is not allowed.
The use of speakers for music on the boat and at the hotel is prohibited.
100% of the Daytour must be paid to be admitted to the Marina.
The beach spot is cashless. No cash accepted, payments only by card or payment link.
The Restaurant and Bar consumption voucher included in the plan is non-refundable if not fully used.
Children up to 2 years old only pay for their restaurant expenses.
Depending on sea conditions and for safety reasons, the captain may decide to return earlier than planned.
Free cancellation up to 72 hours before the start of the activity